BACKGROUND IMAGE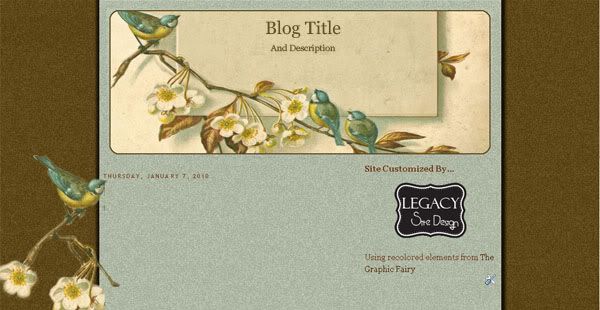 HEADER
(Please make sure and read our TOU before you install Legacy Site Design's products on your blog.)
Back-up your current template.
To install the BACKGROUND Image, go to CUSTOMIZE--> LAYOUT--> PICK NEW TEMPLATE--> Choose Minima or Minima Lefty. This will ensure the columns and basic layout are compatible with the background.
Go to LAYOUT--> PAGE ELEMENTS --> ADD A GADGET--> Choose Html/javascript.
Switch back to my site and copy the entire code above under BACKGROUND. (Shortcut: put cursor in text area and push Ctrl A then Ctrl C)
Back to your Add Gadget html window, Paste the entire code. (Shortcut: ctrl V) Click Save. View your CUTE new background.

To Install the HEADER component;
Go to CUSTOMIZE--> PAGE ELEMENTS-->HEADER (Click EDIT).
Remove your current Image.
Switch back to my site and copy (ctrl C) the entire code on the HEADER component above. Click FROM THE WEB, and Paste (ctrl v) the code into the section.
Click BEHIND TITLE AND DESCRIPTION. (This will allow your blogs name and description to appear in Front of the Image)

Click Save and now you're done!

ENJOY!